Ref:
Date:
Location:
Photographer:
Ref:
Date:
Location:
Photographer:
Workshops & Demonstrations
I have undertaken several workshops across Essex and Suffolk over the last few years and from 2007 I have been tutoring overseas, were you there? Would you like to join me? I have more planned for 2016.
In the past, these have included a weekend residential workshop at Bawdsey Manor in Suffolk, day workshops in Essex at Thorndon Countryside Centre, Brentwood; Hylands House in Chelmsford and Thames Chase near Upminster. I am also tutoring overseas in Italy and Portugal and France - see my Painting Holiday page for details and the links page - again, why not join me.
My objective at a demonstration is to inspire those that have joined me, but the emphasis in a workshop is on you painting, learning and having FUN! I can introduce aspiring art students to the concept of many media. We also look at all the variety of work surfaces currently available and how these effect the way a painting or drawing can be developed.
Workshop Students Comments:-
"given me great confidence"...
Carolynn George
"lovely day!"...
Barbara Langer
I like the way you continuously go around each person in the group giving advice, help, suggestions etc. and I think it is right to give beginners priority and more time to start with".....
Lynne Harris
Previous Venue's
Thorndon Countryside Centre - "A Walk in Thorndon"
A typical day workshop (10.00 - 4.30). This popular venue is ideal for trying a painting "en plein air". Any media is catered for, the objective is to explore the colour of Thorndon as the different seasons approach. A maximum number of 10, first come first served. The centre is run by Essex Wildlife Trust who ask for a donation for the day.
Workshop and Demonstration topics have included -
"Fragmented Art" - a style I adopted examples of which are on my gallery pages; "The English Landscape"; "The Italian Landscape"; "Hot and Cold" - an exploraton of colour and tone values; the "Woodland in Spring"; "Nightscapes"; "Seascapes"; "An English Harbour"; "Studying Monet"; "Wildflowers and Hedgerows" and "Autumn"
Workshop and Demonstration to Art Groups, Clubs and Societies have included -
Cambridge; Hatfield Peverel; Thorndon Countryside Park; Hylands House Chelmsford; Essex; Southend at their summer base on the Roche estuary at Brook Farm, Orpington; Ongar; Bishops Stortford; Boreham; Roche; Ilford; Great Totham; Galleywood; Southminster; Redbridge; Epping Forest; Chelmsord; Wickford; Ashingdon; Knockholt; Elmwood; Kelvedon; Royal Tunbrdge Wells; West Horndon; Brush Strokes (Leigh on Sea); Clacton; Danbury; Thurrock; Brush Strokes (Brentwood); West Malling, Lea Valley, Writtle, West Malling, Maldon, Dunmow, Clare, Holland on Sea & Mersea Island
Changing tack - I went to a school in Writtle to do a short demonstration and workshop with year 12 and 13 students (24 in all). Everyone, including their teacher, seemed to enjoy themselves. I believe I helped these students break the mold set by the current curriculum by showing them some different mark making and inspire them to paint what they felt. Official feedback was very positive and I was invited back to another well received workshop. The students ended up calling me "Uncle Trev" and asked me to go back or even visit monthly .....now there's a thing!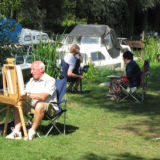 Copyright Trevor William Harwood 2007-18 ~ Terms and Conditions